How might drone racing drive innovation?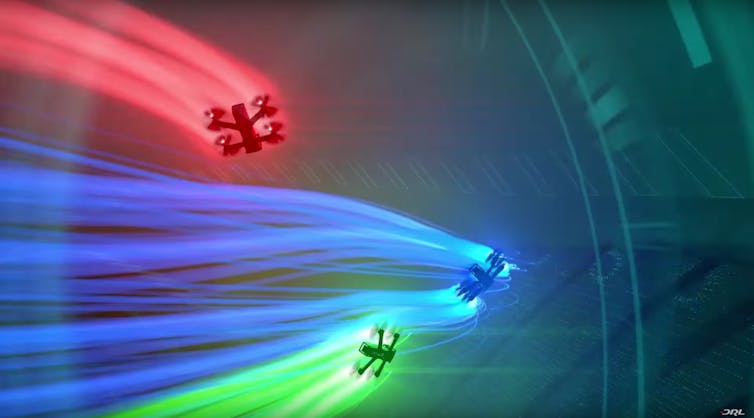 Jack Langelaan, Pennsylvania State University
Over the past 15 years, drones have progressed from laboratory demonstrations to widely available toys. Technological improvements have brought ever-smaller components required for flight stabilization and control, as well as significant improvements in battery technology. Capabilities once restricted to military vehicles are now found on toys that can be purchased at Wal-Mart.
Small cameras and transmitters mounted on a drone even allow real-time video to be sent back to the pilot. For a few hundred dollars, anyone can buy a "first person view" (FPV) system that puts the pilot of a small drone in a virtual cockpit. The result is an immersive experience: Flying an FPV drone is like Luke Skywalker or Princess Leia flying a speeder bike through the forests of Endor.
Perhaps inevitably, hobbyists started racing drones soon after FPV rigs became available. Now several drone racing leagues have begun, both in the U.S. and internationally. If, like auto racing, drone racing becomes a long-lasting sport yielding financial rewards for backers of winning teams, might technologies developed in the new sport of drone racing find their way into commercial and consumer products?
An example from history
Auto racing has a long history of developing and demonstrating new technologies that find their way into passenger cars, buses and trucks. Formula 1 racing teams developed many innovations that are now standard in commercially available vehicles.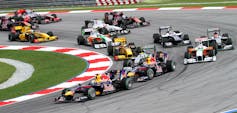 These include disk brakes, tire design and materials, electronic engine control and monitoring systems, the sequential gearbox and paddle shifters, active suspension systems and traction control (so successful that both were banned from Formula 1 competition), and automotive use of composite materials such as carbon fiber reinforced plastics.
Starting with the basics
Aerodynamically, the multi-rotor drones that are used for racing are not sophisticated: A racing drone is essentially a brick (the battery and flight electronics) with four rotors attached. A rectangular block has a drag coefficient of roughly 1, while a carefully streamlined body with about the same proportions has a drag coefficient of about 0.05. Reducing the drag force means a drone needs less power to fly at high speed. That in turn allows a smaller battery to be carried, which means lighter weight and greater maneuverability.